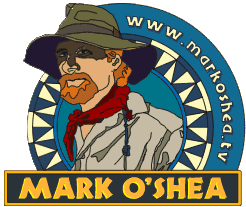 The Batch Watermarks
smart watermark software
Protect your artwork and photos with with this great watermark software. It's simple, fast, easy and flexible. The watermarks will also help promote your brand on the web. Use this discount code at checkout to get a 10% discount on the marked price. OSHEATV
Buy Now
The moment of capture,
zebra spitting cobra in MidWest M1 tongs
photo: Bob Lawrence
click on image to enlarge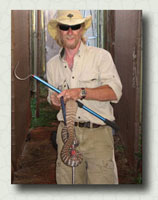 Backing out of the boma
with the spitter secured
photo: Bob Lawrence
click on image to enlarge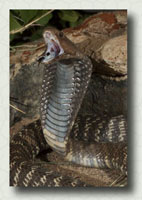 Zebra spitting cobra,
Naja nigricincta,
proud, not cowed!
photo: Mark O'Shea
click on image to enlarge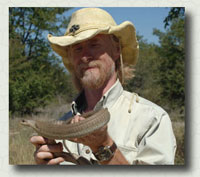 Mark with a female Boomslang,
Dispholidus typus,
he removed from a village mango tree
with his specially designed
Midwest Mamba tongs
photo: Ivan Knezovich
click on image to enlarge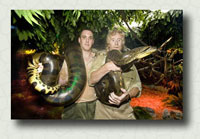 Mark O'Shea and Adam Richardson
moving one of the large 52kg (114lb)
Green Anacondas, Eunectes murinus,
in to the Record Breakers exhibit
at WMSP
photo: John James
click on image to enlarge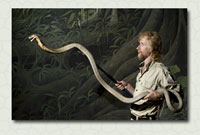 Mark O'Shea with the 10ft
King cobra, Ophiophagus hannah,
from the Record Breakers exhibit
at WMSP
photo: John James
click on image to enlarge
STOP PRESS!!

The NEW Official Mark O'Shea
Herpetological and Expedition Website
is now live

This new site picks up from the site you are on now,
with O'Shea's Big Adventure Series 4 and
all Mark's expeditions since 2005,
plus a great deal more.
Note: from now on the new site will be the priority location for
new information and blogs from the field.
Check out the two new sets of herp stamps there.
Click on the link above to go to the new website
but don't get lost, its a jungle in there
---
We are recruiting fieldworkers for
Phase V
Timor-Leste Reptile & Amphibian Survey
15 June - 9 July 2011
click on the link above for more information
---
HOT OFF THE PRESS!!

Annotated checklist of the recent and extinct pythons (Serpentes, Pythonidae),
with notes on nomenclature, taxonomy, and distribution.
by Wulf Schleip and Mark O'Shea has just been published in ZooKeys
download a free open access pdf from the ZooKeys website
by clicking on the title above.
---
AVAILABLE AGAIN
MARK'S EVER POPULAR
DORLING KINDERSLEY
HANDBOOK TO REPTILES AND AMPHIBIANS
HAS BEEN REPRINTED WITH A NEW LOOK, AND A NEW PRICE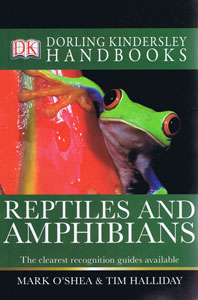 WAS £12.99, NOW £9.99
CLICK ON THE COVER ABOVE TO GO TO OUR ONLINE BOOKSHOP
AND BUY A SIGNED COPY TODAY
---
A BRAZILIAN TRAGEDY
Yesterday (15th May 2010) the internationally renowned snake and arachnid collections of the world famous Instituto Butantan, Sao Paulo, Brazil were destroyed by fire.
This is not just a tragedy for the devastated researchers based at Butantan and the many international visitors they receive each year, this is from a scientific standpoint, a disaster with international ramifications which will have a long lasting effect similar to the bombing of the Berlin Museum during WWII, with the subsequent loss of important specimens and papers that caused.
To a non-scientist it is hard to understand why the loss of a few thousand jars of pickled snakes should be important. So to explain.

Every species is described using a type specimen and it is that specimen that holds the name of the species, and if that specimen is lost or destroyed it makes validating species difficult, such as determining whether a newly found specimen belongs to the same or a new species. Type specimens are the bedrock of taxonomy (the science of naming species which supports biology and conservation), they are protected and cossetted and kept from harm, whenever harm threatens. During WWII all the type specimens in the British Museum (Natural History) were removed to safety underground.
Sadly nobody at Butantan could have forseen the disaster that was about to befall them, so irreplaceable type specimens have been lost along with the rest of the most important and influencial herpetological collection in Latin America.
From Wikipedia: On May 15, 2010, a fire gutted the building of collections and destroyed about 70 000 specimens of snakes, scorpions and spiders preserved in formaldehyde. Over 90 years of research were lost. The fire started at 7 am and was controlled only an hour and a half later. According to initial assessments had not animals living in the building.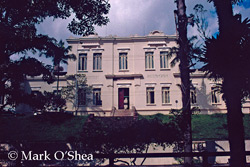 The main house at
Instituto Butantan, SP, Brazil,in 1999.
This was not the building destroyed by fire.
Lost was the spirit collection building, housing some
70,000 preserved snakes, spiders and scorpions,
many collected in the early 20th century,
and many type specimens for their species.
(click to enlarge)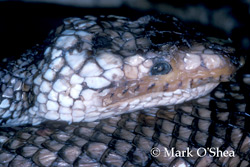 One of only two known specimens of
Cropani's boa Corallus cropani,
collected in the now almost vanished
Atlantic Coastal Forests, in the 1930s,
and housed in the IB collection.
Now presumed lost forever.
(click to enlarge)
I visited Instituto Butantan in 1987 whilst working on the Royal Geographical Society "Maracá Rainforest Project" (see below) and then filmed there and with colleagues from Butatan on Ihla Queimada Grande when we made the OBA film "Lost Worlds" in 1999, when we also collected a specimen of the, then still undescribed, Alcatraz lancehead.
My sympathies go out to everyone at Instituto Butantan following this terrible disaster.
Links:
---
A BRAZILIAN APPEAL
It seems another Brazilian herpetological institution is under threat and needs help.
I have received an email from Dr Rodrigo Souza, Director of the Serra Grande Breeding Center for Lachesis muta rhombeata.
This is the critically endangered Atlantic coastal bushmaster, a separate subspecies from the one in the Amazon. Everybody knows the Amazon is endangered but few people realise that the thin coastal forest of Brazil is even more threatened by the advance of man. It has been suggested that 93% of the forest has gone, it certainly only remains as pockets on mountains and hillsides. These forests were home to many strange and unique species, some of which (golden lion tamarins, Spix's macaw) appeal to the public and are considered 'worthy of conservation'. Others might not appeal quite so widely, Cropani's boa (Corallus cropani - see above) and the venomous Atlantic coastal bushmaster. Rod Souza, a medical doctor, has devoted his life and livelihood to conserving and breeding the bushmaster but he is now running out of funds.
The Atlantic coastal bushmaster was the subject of the first ever OBA film, entitled "Ox Killer"*. We spent 10 days and night scouring three states (Rio de Janeiro, Bahia and Alagoas) and on the final night, at half-past midnight, at a remote protected location called Quebrangulo, we found a male Atlantic coastal bushmaster. The snake had only emerged because it had rained that afternoon and evening. We were elated, first film in the can, and we continued to succeed for the next eight films. OBA went to four series' but in the five years that it took to make the films, the bushmaster has continued to struggle for survival.
Rod Souza's breeding project may be its only life-line beyond re-establishment of vast swathes of original rainforest, yet deforestation continues year by year. Souza considers the bushmaster may even be extinct in the wild, in which case his project is truly its last chance.
Links:
Serra Grande Center for Lachesis muta rhombeata
Bushmaster snakebites in the Amazon
First breeding of Atlantic coastal bushmasters
More on breeding Atlantic coastal bushmasters
Donation should be sent to:
Rodrigo Cançado Gonçalves de Souza,
CPF 525.920.146-91,
Banco do Brasil,
Agency 3192-5 (Ilheus)
Account number 16526-3.
Atlantic coastal bushmaster


Lachesis muta rhombeata
Quabrangulo, Alagoas


Rodrigo Souza with Atlantic coastal bushmaster
at Sierra Grande Breeding Center

Hatchling Atlantic coastal bushmaster


Lachesis muta rhombeata
Sierra Grande Breeding Center

Rodrigo Souza with captive bred
Atlantic coastal bushmasters
at Sierra Grande Breeding Center
click on images above to enlarge
* Ox Killer was not my choice of title. It is an Anglicization of the Costa Rican name 'matabuey' which refers to a different species of bushmaster which is claimed to kill oxen. I would have selected a more sympathetic title that did not demonise an endangered species.
---
THE BEAGLE CAMPAIGN
Support the Resolution being voted on at the Royal Geographical Society SEM on 18th May 2009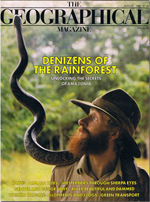 The Royal Geographical Society was once synonymous with exploration and expeditions. During the 1970s and 1980s the RGS mounted a series of large-scale, multidisiplinary expeditions to some of the remotest parts of the world. Since then the Society seems to have turned its back on conducting its own expeditions. A significant number of Fellows wish to see a return to the heydays of the Society, they want the Society to once again mount large expeditions. However, the current RGS Council is against this return to large-scale expeditions. A Special General Meeting has been called for 18th May. If you are a Fellow or a Post-graduate Fellow of the RGS you can vote for the Resolution. If you are an interested member of the public you can voice your opinions and offer your support on The Beagle Campaign website.
Mark O'Shea has been FRGS for over 20 years and was the herpetologist on one the the RGS's most successful expeditions, the Maracá Rainforest Project in northern Roraima, Brazil, during 1987-1988.
Read his open letter of support by clicking on this link.
Up the Resolutionist

Visit the The Beagle Campaign website
---
SAY NO TO VENOMOIDS
Click on the snake cartoon
to download my 2004 article from The Herptile
"The Case Against Venomoid Snakes"


"I don't want the snip"
Announcement - (Aug 2006)
Do you admire and respect snakes ?
Do you disapprove of cruelty to reptiles ?
Do you believe that DIY surgical removal of a venomous snake's venom glands, on the kitchen table with cooling in the fridge as the only form of anaesthetic, is a barbaric act ?
We do !
If you agree with us please sign this petition today and help put a stop to this barbaric practice.
Go to: www.aussiereptileclassifieds.com/phpPETITION/
---
Now on Facebook

---
Bound for New Britain (May 2008)
Snakebusters PNG 2008 pt.4

Dave was due to fly to Jakarta to present our paper on Snakebite in the Asia-Pacific Region, at a WHO conference, and I had been invited to visit the Dami oil-palm estates in West New Britain Province. I was very keen to go, there might not be any dangerous venomous snakes over there but there was a python I was particularly keen to see in the wild. This would be my first ever opportunity to search for the Bismarck ringed python, Bothrochilus boa, probably the least python-like of all New Guinea pythons, and although my visit was short, only a few days, I was thoroughly looking forward to it.

Read Mark's Complete Blog from 'Bound for New Britain' trip...
---
The Search for Papa Graun Moran (May 2008)
Snakebusters PNG 2008 pt.3

There are five highlands provinces in Papua New Guinea, the largest being Southern Highlands Province. I first visited in 2000 whilst filming part of an episode of O'Shea's Big Adventure in Tari. In 2008 David Williams and I were traveling up to Moro on the northern shore of Lake Kutubu to conduct an herpetological survey for Oil Search Limited and the World Wildlife Fund. Our aim was to initiate a survey of the only fully protected snake in Papua New Guinea, the Boelen's python, Morelia boeleni, known locally as papa graun moran (father ground python).

Read Mark's Complete Blog from 'The Search for Papa Graun Moran' trip...
---
Island of the White Snake (April-May 2008)
Snakebusters PNG 2008 pt.2

Madang Province is one of the northern coastal provinces of PNG, and one of the more attractive and verdant parts of the country. I first came here in 1990 when I was based at the, now closed, Christensen Research Institute (CRI) on the northern coast road about 14mls north of Madang town. I was working with Oxford University's Department of Clinical Medicine, as the herpetologist with the otherwise medical team and had come to Madang to capture the elusive but highly venomous New Guinea small-eyed snake, Micropechis ihaheka, for venom and snakebite research. Locals call this much feared snake, which can achieve lengths of over 2.0m, the wait snek (white snake) because of its light coloured body colour which contrasts with its dark head and the red-brown body rings.

Read Mark's Complete Blog from his 'Island of the White Snake' trip...
---
Snake Quest in the Wild West (April 2008)
Snakebusters PNG 2008 pt.1

Located in the southwest of Papua New Guinea (PNG), up against the border with West Papua (Indonesia), Western Province is the largest PNG province with a surface area of 99,300sq.km. (38,340sq.miles), but a population of only 153,000.
This is a remote region of mangrove and freshwater swamps, monsoon forests, seasonally flooded grasslands and huge crocodile-infested rivers ie. the Fly, Strickland, Bensbach, Mai Kussa, Oriomo, Bina Turi, Paho Turi. There are few roads and most travel is by boat along the rugged coast or inland up the rivers. The administrative centre, with a population of 15,000, is tiny Daru Island a few kms off the southeastern coast, the only place no in danger of complete inundation during the wet season. Western Province easily earns the nickname of Papua New Guinea's "Wild West".

Read Mark's Complete Blog from his 'Snake Quest in the Wild West' trip...

---
Mark O'Shea has been working in Papua New Guinea since 1986.
He conducted herpetological surveys for Operation Raleigh in Western and Central Provinces. He then conducted venomous snake research and worked with medical professionals in Central and Madang Provinces, on the joint Oxford University Dept. of Clinical Medicine – Liverpool School or Tropical Medicine – University of PNG Dept. of Medicine snakebite research project through the 1990s and wrote the definitive A Guide to the Snakes of Papua New Guinea (Independent Publishing, Port Moresby, 1996). In 2000 he presented three films: Green Blood, Magic Man and Tree Crocodile, in the 2nd series of O'Shea's Big Adventure, filming in Central, Western, Madang, Simbu, Southern and Western Highlands Provinces. In 2006 he launched a set of six stamps featuring the Dangerous Snakes of Papua New Guinea, which he designed for PostPNG (these stamps are available in special packs from the shop on this website).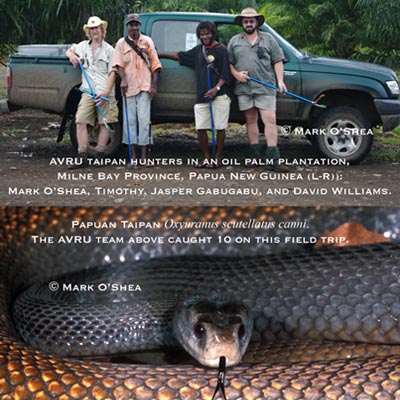 Mark was back in PNG, under the auspices of a Fellowship from the Dept. of Pharmacology at the University of Melbourne, to work as a member of the small Australian Venom Research Unit (AVRU) team with David Williams (AVRU) and Dr Wolfgang Wüster (University of Bangor) and alongside colleagues from UPNG Dept. of Medicine and Australian institutions.
Papua New Guinea has a snakebite problem.
Although neighbouring Australia (pop. 20M) suffers only 2-3 annual snakebite fatalities, PNG (pop. 5.5M), with many of the same or related venomous snake species, suffers at least 200 and possibly as many as 600 snakebite fatalities a year. PNG spends 25% of its medical drug budget on Australian antivenom and still runs out of stocks. Combined with corruption, theft and black-market resale of Australian antivenom within PNG, and the importation and sale of useless, even dangerous, foreign antivenoms, at vastly inflated prices, snakebite must feature as one of the most serious medical emergencies faced by Papua New Guinea.
In some parts of the country more people die of snakebite than malaria, TB or HIV/AIDS.
The AVRU team, led by David Williams, is determined to bring down the death rate through snakebite, work towards the production of cheaper and more efficient domestic antivenoms and reorganise the antivenom distribution system so that every snakebite victim has a chance of survival. To this end it is necessary to capture live and healthy specimens of the species responsible for causing snakebite across the country. In three short fieldtrips to Milne Bay, Oro and Madang Provinces in late 2006 Mark and David captured ten Papuan taipan, four New Guinea small-eyed snakes, a dozen death adders, two Müller's crowned snakes and the first three New Guinea brownsnakes available from venom research.
But this work is not without risk.
Click on the following link to download the ABC Foreign Correspondent documentary featuring David Williams filmed in December 2007, during which David is almost killed by a large Papuan taipan. This is not a set-up, this is actual as-it-happens footage.
Unfortunately this Windows Media download only appears to be compatible with Windows systems.
If you would like to learn more about the life-saving AVRU PNG Snakebite Project please click on the link at the top of the O'Shea website homepage. AVRU has now set up a Paypal account for donations to the project fund.

---
This is a virtually unedited YouTube video clip from Mark's latest expedition to conduct an herpetological survey in the Ongava Game Reserve in northern Namibia.

Watch Mark encounter and capture a high venomous zebra spitting cobra (

Naja nigricincta

) in a disused antelope capture boma, whilst struggling to get his sunglasses on to avoid being blinded by the cobra as it spits copious amounts of cytotoxic venom into his face.

The clip is taken from series 2; episode 8 of

Safari Park

, to be broadcast in the UK on Central ITV on Sunday 1 July 2007@ 6pm and later also on Animal Planet.

click here to view stills from the spitting cobra capture.

click here to view the publicity photo for episode 7,
featuring Mark's work at the Safari Park,
to be broadcast on Sunday 24 June 2007 @ 6pm.
Safari Park is a British televison series charting the day to day workings of West Midland Safari Park located in the Worcestershire countryside to the southwest of Birmingham.
Mark has been connected with WMSP since 1987, originally as Curator of Reptiles, but now as Consultant Curator of Reptiles. The WMSP website is located at www.wmsp.co.uk
---
---
---
Mark's "Big Adventure" began in 1998 when YAP devised a series featuring the herpetologist Mark O'Shea for Channel 4 in the UK and Animal Planet in the US.
Since then Mark and the YAP team have travelled to some of the world's most exotic locations, encountering some of the planet's deadliest and most fascinating reptiles and amphibians.
From Arkansas to Argentina, India to Indonesia, and New Guinea to New Caledonia, Mark has come face to fang with king cobras, beaked seasnakes and silent rattlesnakes. He's got up close and personal with snapping turtles, snappy gators and cryptic crocs. And he's rubbed snouts with Komodo dragons, giant geckos, and skinks with an "extraterrestrial" twist.
Risking life and limb Mark dives deep into the ocean, climbs mountains and volcanoes, and probes the deepest jungles, driest deserts and steamiest swamps in pursuit of his elusive quarry.
Everything you see on the programme happens for real. No captures are stage managed, no creatures caught twice to facilitate filming.

What you see is what we got!
Now a series of special one hour adventures is currently in production. Over the coming weeks the site will be added to with new photographs and information about these films…as well as updates on the existing pages.
In the meantime explore some of the earlier ground breaking programmes, and don't forget to bookmark this site before you enter Mark O'Shea's fascinating world of reptiles.