During my time with O'Shea Dangerous Reptiles/Big Adventure, I've travelled to many remarkable locations and seen Mark O'Shea complete truly great herpetological quests. From California and Arizona in the USA to the southern point of Patagonia in Argentina. Not forgetting Costa Rica, Baja California, mainland Mexico and Brazil, I consider myself truly privileged to have watched O'Shea in action. But none of these expeditions prepared me for the experience of being responsible for a quest that if successful, could save, potentially, hundreds of lives each year.
| | |
| --- | --- |
| Date: | 9 December 2001 |
| Location: | Taj Exotica Hotel, Bentota, Sri Lanka |
| Venue: | Fourth World Congress of Herpetology |
Professor David Warrell sat back into his wicker chair, sipped his Beaujolais and with a hint of mischief announced, "Chasing colourful frogs in rainforests is all well and good but what about a documentary that really makes a difference?"
A typically loaded statement from the world's finest snakebite expert and even though all our films have a solid scientific core at their heart, it was one taken on the chin by O'Shea and myself. I turned the tables and struck gold. "Give me the story and we'll make it".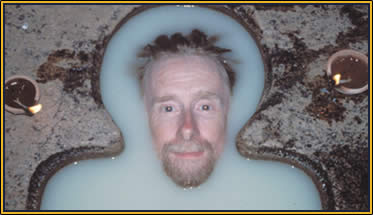 Is O'Shea undergoing a) wrinkle removal treatment; b) a religious transformation; c) snakebite treatment, or d) auditioning for the part of Cleopatra ? Ans: The ancient Ayurvedic medicine boat treatment at Polonnaruwa was a last resort for comatose snakebite victims.
Within four weeks, my colleague, Associate Producer Matthew Catling, was in Sri Lanka investigating the story of the Russell's viper and the less than effective Indian antivenom that is used to combat the estimated 30,000 bites from the snake on the island each year.
Mark's quest would be simple – collect healthy specimens for a venom research programme instigated by Prof Warrell in collaboration with Colombo University Faculty of Medicine in the Sri Lankan capital. The venom from the collected Russell's vipers would be used to produce a fully effective antivenom specific to Sri Lankan Russell's vipers.
You know when you have a strong story: everything begins to fall into place quickly. This project was researched, signed, sealed and delivered to the broadcasters within a five-month period – probably a record for an O'Shea /Big Adventure.
I think the film speaks for itself so I'd like to detail a taste of the build up to filming an O'Shea Big Adventure. We had a solid story foundation to build on for this film but that said, we realised it would be a very tight turnaround.
The initial research period highlighted a seasonal hotspot for Russell's viper bites … in early March. This is when the paddy fields are being harvested and barefoot agricultural workers are bitten by Russell's vipers and killed on a daily basis. It's the optimum time for venomous snake activity in the northern dry zone where we were planning to film. We had to go for it.
After we returned from a Christmas break, the team had one month to prepare for Matthew Catling's research trip, confirm crew, appoint on-screen/off-screen contributors, initiate film and wildlife permits, plan travel arrangements, oh and not forgetting the actual development of the story, the planning of film sequences and the completion of a shooting script.
At this stage the team comprised of myself, Matthew (Associate Producer), Edwina Sheridan (Production Co-ordinator), Sue Edelson (Production Manager). We were guided and supported by our Executives Pauline Duffy and Elliott Halpern. Mark O'Shea, of course, is fully involved in all stages of production, monitoring and injecting his own special expertise into our research and reconnaissance plans. Gerry Curry works in our travel office and prepares probable travel routes from our planned shoot schedules and we employed a production company in Sri Lanka to help with permits and translation.
I always start by pinning a map of the target country onto my notice board. It becomes a focal point for conversations and development of ideas between the Associate Producer and the Producer/Director. Matthew's main responsibilities are story development, finding the right people to meet on his research trip and fixing permits with Film Location Services, our Sri Lankan production company. My role as Producer/Director concentrates on fine-tuning the storyline, planning sequences from a technical and editorial perspective and juggling the budget to make all of this work.
Matthew travelled out twenty-four days in advance of the first shoot day for the research trip. I joined up with him twelve days before the start of the shoot for my reconnaissance. By this point, the story should be nailed down and the prep is geared towards technical planning. But no matter how well you're organised, this never happens and the research and prep continues right up until the day of shooting. O'Shea arrived two days before the shoot with the cameraman (Mark Stokes) and soundman (Terry Meadowcroft) arriving the day before filming began.
The research trip undertaken by the Associate Producer is probably the most critical stage. Here, the director hears for the first time how things really are on the ground. Matthew communicated with me at least once a day by telephone. Every three or four days I received a detailed update document via e-mail.
My final days of preparation in the Leeds office while Matthew was conducting his research trip were quite bizarre. He would contact me from the most unexpected place. I remember him calling me from Bibile in the central eastern Sri Lanka. We discussed hotel logistics as he stood atop a giant boulder looking down into a valley where wild elephants were obliviously crashing through the dense jungle. On another occasion he'd stumbled across a carving of a Russell's viper, on the fringe of the ancient city of Polonnaruwa. A hundred or so Macaque monkeys surrounded him – I could hardly hear him detail his progress.
The most enjoyable time for me as a director is getting on the plane for the reconnaissance knowing (or hoping) that everything is in place. At that point, you know you're up and running and no time-consuming office responsibilities can get near you any more. The adventure is about to begin. The three weeks of on the ground planning and preparation on location before filming starts are when you can really see the film take shape.
And what an adventure – flying over Sri Lanka piloted by the country's most decorated helicopter serviceman from the Sri Lankan Air Force (his Huey helicopter was peppered with bullet holes from it's years of service in the civil war). Watching Green turtles lay eggs at night on a beach in Hambantota during my reconnaissance trip. Petrified as a rogue elephant looked set to charge our group while searching for Russell's vipers in a remote paddy field in the small hours. Not to mention the hair-raising experience of actually coming face to face with wild, aggressive Russell's vipers.
This film was unlike any other I'd been involved in. We decided from the very beginning to make a departure from the usual O'Shea documentary. I wanted to focus on the humanitarian angle of the story as well as the adventure that is always guaranteed when Mark is around. For me it was essential we highlighted the torturous pain thousands of Sri Lankans had to endure each year when bitten by Russell's vipers and treated with the Indian antivenom.
To make sure I could cover this side of the story, I'd worked the budget to allow me a second cameraman (John Pinkney). John camped out at Anuradhapura General Hospital and followed the progress of Russell's viper snakebite victims as they begin to fill up hospital beds during the peak of the paddy harvest. It was an experience that I know took John to the very edge; an experience I'm sure he will have difficulty in forgetting for the rest of his life. Disturbing, distressing but essential if the film was to be successfully completed.
I also had a very traumatic time before filming even started. On the second day of my reconnaissance trip, Matthew took me to a rural community near Hambantota on the Southern coast of Sri Lanka. I was still suffering from the long flight and hadn't prepared myself for the emotional experience that was about to unfold.
Before I had time to think, I was sat in the open living area of a modest family home. The mother had her two-year-old son clinging to her. As the translation unfolded, I was hit by the story of the mother's other eight-year-old son who had been bitten by a Russell's viper only yards from where I was sitting less than two weeks before. The family, almost without any noticeable distress, explained how the boy died of heart failure less than three hours after the bite.
I walked from the home dazed and nauseous. I'm not ashamed to say I cried in the vehicle on the journey to the next location. Our Sri Lankan translator tried to explain the lack of emotion seemingly shown by the boy's family only days after his death: "Children die here every day, it is a part of normal life".
I hope the film does make a difference.
Mark McMullen
Director