spool down for titles
(click here for other gift ideas)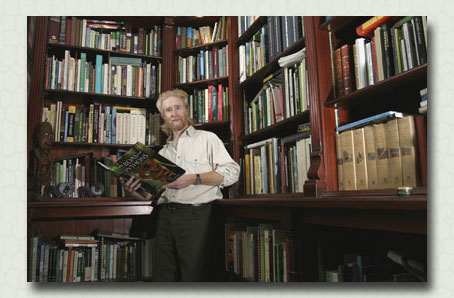 Mark O'Shea in his library at home in Shropshire, UK,
surrounded by his beloved books
photo: Anthony Nottcott
click on image to enlarge
Signed Copies
A note about book signing:
There is the option to buy the book either
signed by Mark O'Shea, or unsigned,
and also the option to add a desired dedication,
including a date if the book is required for a specific
occasion such as a birthday.
The choice, signed or unsigned, and the dedication
will appear on the checkout page and can be changed before
the order is placed by back clicking.
The following titles are available from this website.
Each book can be signed and/or dedicated, making them
perfect personalised gifts for reptile enthusiasts,
fans of "O'Sheas's Big Adventure"
or interested armchair naturalists.
Click on the page links below or to the left
Amazing savings
We have reached an agreement with Mark's publisher,
New Holland, which means we can now offer two of his
most popular titles at greatly reduced prices via this website
and at his personal appearances.
Save £5 on Venomous Snakes of the World (softback)
and £10 on Boas and Pythons of the World (hardback)
Our prices are now cheaper than Amazon's (for new books)
and although Amazon can offer free postage (on new books)
they cannot offer personally signed or dedicated copies.
XMAS
Personally signed or dedicated books from the the O'Shea website
make the perfect Xmas gift for herp enthusiasts.
Order early to avoid disappointment.
If you experience difficulty completing an order for books on this site
please contact us at herpsales@wmsp.co.uk for assistance

Venomous Snakes of the World
UK softback edition
(New Holland 2008)

Boas and Pythons of the World
(New Holland 2007)
Handbook to Reptiles and Amphibians
(Dorling Kindersley 2001)
---
Also available,
Dangerous Snakes of Papua New Guinea
(PostPNG 2006)

stamp issue designed by Mark O'Shea.
---
Books by Mark O'Shea but out-of-print
or unavailable from this website.
A Guide to the Snakes of Papua New Guinea
(Independent Publishing 1996)
Nature Watch: Lizards
(Lorentz Books 2003)
Expedition Field Techniques: Reptiles and Amphibians
(EAC RGS 1992)
---
and the following books with contributed chapters.
Snakes of Medical Importance: Asia-Pacific Region
(Univ. Singapore 1990)
Maracá:
The Biodiversity and Environment of an Amazonian Rainforest
(Wiley & Sons 1998)
Endangered: Wildlife on the Brink of Extinction
(Cassell 2006)
Millennium Family Encyclopedia
(Dorling Kindersley 1997)
---
Postage:
Books are heavy items.
See the link below
Click here on the link on the left
to view postage options
Methods of Payment:
The preferred method of payment is on-line via Paypal
Sign up to Paypal
but UK orders can be accepted with payment
by cheque in UK pounds sterling only,
made payable to Mark O'Shea,
sent c/o The Reptile House at
West Midland Safari Park,
Bewdley, Worcestershire, DY12 1LF .
Cheques must clear before books are dispatched.